Moog Protokraft Releases Dagger Series 10Gbps Optical Transceivers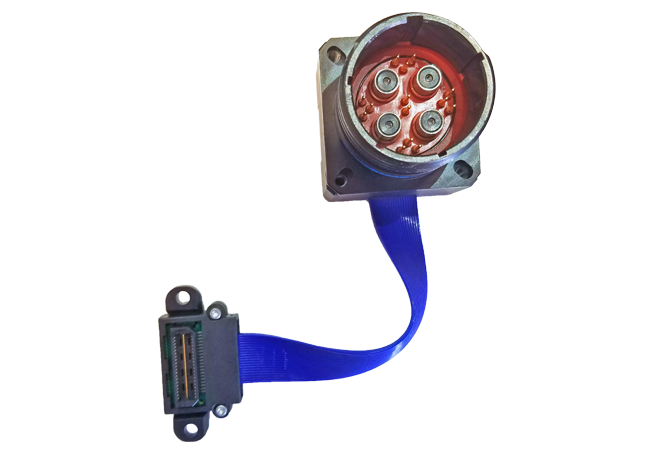 Kingsport, TN, USA – Moog Protokraft, a division of Moog Inc. has announced the availability of its rugged Dagger series dual and quad port optical transceivers. The Dagger series with D38999 fiber optic external connector interface improves the performance and reliability of high speed communication links up to 10.3GB/s per port in harsh environment applications.
The Dagger series dual and quad port optical transceivers are available either with 4 or 8 optical converters and can be factory configured to allow customization and flexibility of numerous TX/RX combinations. The external interface of the Dagger series optical transceiver unit is a D38999/19-04 for the dual port and a D38999/25-08 for the quad port with up to 8 ARINC 801 or ELIO® multimode fiber optic ports. The electrical interface is a ribbon coax cable to Samtec® SMT connector assembly enabling interconnection to a motherboard, daughter card or backplane. Power to the unit (3.3VDC) is supplied through the integrated Samtec assembly.
The Dagger transceiver unit is suitable for extreme rugged military, aerospace, petrochemical, mining, industrial or utility applications where significant levels of shock, vibration and extreme temperature ranges are experienced. Moog Protokraft designs are optimized for SWaP (small size,low weight, low power). Innovative packaging and the use of industry standard harsh environment connectorization enable effective resistance to dirt, dust and other contaminants.
Designed to operate in harsh environments, the Dagger series optoelectronic transceivers feature excellent thermal characteristics from -40°C to +85°C, high tolerance to vibration and shock according DO160E and corrosion resistant aluminum housings with different plating's for exceptional EMI/RFI and corrosion resistance.
About Moog
Moog Inc. is a worldwide designer, manufacturer, and integrator of precision control components and systems. Moog's high performance systems control military and commercial aircraft, satellites and space vehicles, launch vehicles, missiles, automated industrial machinery, wind turbines, marine and medical equipment.
Moog Protokraft manufactures electronic and optoelectronic components and systems qualified on many military platforms, including: F-16, F-18, F-22, F-35, Grippen, B-52, C-130, P-8, KC390, V-22, AW101 Merlin, UH-60, LCS, MK-15, WIN-T, PATRIOT, MRAP, JLTV, AN/TPS-80, AH-64, RQ-4 Global Hawk, MQ-1 Predator, MQ-9 Reaper, MQ-8 Fire Scout, among others.
Additional information about the product can be found at www.moogprotokraft.com.