Viking 4+1 Port BiDi Ethernet Switch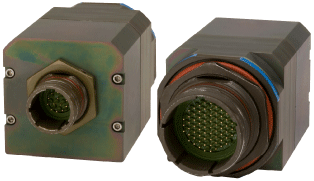 Moog Protokraft Viking series 4 and 1 Ethernet switches consist of 4x10/100/1000Base-T ports plus 1x1000Base-BX-U / D port in a wall or floor mounted inline MIL-DTL-38999 connector assembly.The Viking series Ethernet switch offers two separate D38999 Ethernet connector interfaces.
The Ethernet copper interface is a D38999 / 19-35 with 4x10/100/1000Base-T Ethernet ports compliant with IEEE-802.3U:2005 plus the 28 VDC interface.
The Ethernet Fiber interface is a D38999 / 09-01 with 1x1000Base-BXU / D Ethernet fiber optic port per IEEE-802.3U:2005 for single fiber links 

offer solutions for up to 80 km.
The Viking 4+1 port single fiber Ethernet switch is a highly integrated and extremely rugged solution for harsh environment networking applications. Its small size, lightweight and low power requirements make it an excellent fit for next generation networks.
Features
Five port Gigabit Ethernet switch in an aluminum housing with D38999 connector interfaces
4x10/100/1000Base-T non-blocking wire speed copper Ethernet ports per IEEE 802.3:2005
1x1000Base-BX-D / U single fiber Ethernet port per IEEE 802.3:2005
Compact size and lightweight for simple mounting and installation
Electrical cable links up to 100 m (EIA / TIA Cat-5E)
Fiber optic link distances up to 80 km over 9/125 μm SMF single fiber optical cables per IEEE 802.3:2005
D38999 / 19-35 sealed cylindrical electrical connector interface
Operating temperature range from -40°C to +85°C
Single fiber ELIO® connector interface per EN4531 / 3645 / 4626 ARINC 801
28 VDC (18 - 36 VDC) power supply - maximum < 8 W
Shock, vibration and immersion resistant per MIL-STD 810
Olive drab cadmium, nickel and zinc-nickel plating meets stringent corrosion resistance performance specifications
Aluminum connector shells and housing are strong, durable and lightweight
Applications
Civil and military vehicle networking
Aerospace and naval platform networks
Unmanaged Ethernet switch applications
Undersea to surface data transmission
Turret application
Ethernet transmission through a single fiber optic rotary joint
Note: Other wavelength, mounting and port count options are available.
ELIO® is a registered trademark of Esterline Souriau