Excalibur 10 Gigabit Ethernet Transponders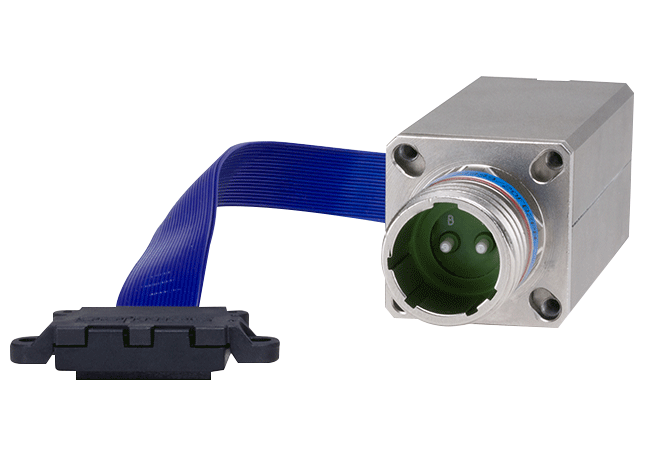 Moog Protokraft Excalibur series optical fiber transponders consist of optoelectronic transmitter and receiver functions integrated into a bulkhead mounted MIL-DTL-38999, series III receptacle connector along with the 10 Gbps / XAUI SerDes functions. The optical transmitters are 850 nm VCSEL lasers. The optical receivers consist of PIN and preamplifier assemblies and limiting post-amplifiers. The XAUI electrical interface to the Excalibur series optical fiber transponders is a Samtec® controlled impedance connector enabling interface to a ribbon coax cable or flexible printed circuit assembly.
Features
1x, 2x and 4x XAUI to 10GBase-SR transponder ports in a rugged metal housing with D38999 interface
D38999 size 17-08 or 11-02 shell with up to 4x MIL-T-29504 / 04 multimode fiber optic contacts
Compact size and lightweight (226.8 g) for simple mounting and installation
10 Gigabit Ethernet optical fiber link distances up to 300 m
Extended range optical fiber link distances also available
Operating temperature range from -40°C to +85°C
Shock, vibration and immersion resistant per MIL-STD-810
Olive drab cadmium, nickel and zinc-nickel plating meets stringent corrosion resistance performance specifications
Aluminum housings are strong, durable and lightweight
Samtec® EQCD Series electrical connector for SMT interface
Applications
Civil and military vehicle networking
10 Gigabit Ethernet network switches, NICs and many other applications
Data communication links up to 20 Gbps in one connector
VPX backplane extension
Note: Other wavelength, mounting and port count options are available.
Samtec® is a registered trademark