Mercury 28 VDC Ethernet Media Converters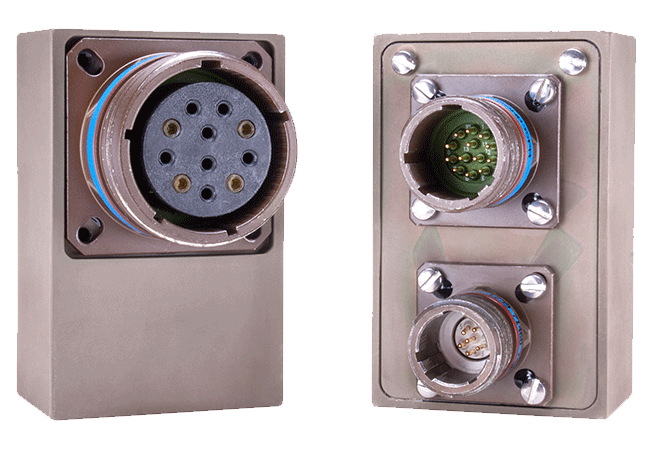 Moog Protokraft Mercury series Ethernet fiber optic media converters consist of optoelectronic single or dual transmitter and receiver functions integrated along with the 10/100Base-TX to 100Base-FX or 1000Base-T electrical to 1000Base-SX optical media conversion circuitry into an externally mounted MIL-DTL-38999 connector assembly.
The optical transmitters are high output 1310 nm LEDs or 850 nm VCSELs.The optical receivers consist of InGaAs or GaAs PIN and preamplifier assemblies and limiting post-amplifiers. The electrical interface to the Mercury series bulkhead optical media converters is a MIL-DTL-38999 connector enabling interconnection to an internal backplane or external backbone cable interface.
Features
Compliant with IEEE-802.3:2005 Fast or Gigabit Ethernet
Optical fiber link distances up to 2 km @ Fast Ethernet and 550 m @Gigabit Ethernet
Operating temperature range from -40°C to +85°C
Shock, vibration and immersion resistant per MIL-STD-810 and MIL-STD-1344
Olive drab cadmium plating meets stringent EMI / RFI performance specifications
Aluminum chassis and D38999 housings are strong, durable, corrosion resistant and lightweight
MIL-T-29504 compliant optical fiber connector interface
D38999 electrical interfaces provide robust interconnection to vehicle wiring
28 VDC (16-36 VDC) power supply
Qualified to DO160G and MIL-STD-461F
Up to four ethernet media converters in one small lightweight but rugged enclosure
Sealed against liquid and solid contaminants
Shock and vibration resistant
Applications
Fast or Gigabit Ethernet switches and peripherals
Network switch / router rack-to-rack links
Storage or computation clusters
Deployable networks
Note: Other wavelength, mounting and port count options are available.