Titan M28876 Ethernet Optical Media Converters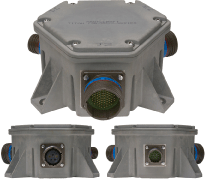 Moog Protokraft Titan series fiber optic Fast or Gigabit Ethernet media converters consist of optoelectronic transmitter and receiver functions integrated along with the 10/100Base-TX to FX or 1000Base-T to LX / SX Ethernet optical media conversion circuitry in an environmentally sealed, NAVSEA approved composite enclosure with an M28876 optical connector interface.
These systems integrate the functions of Ethernet optical media converters into an environmentally sealed, NAVSEA approved composite enclosure with a standard M28876 optical connector. These components are designed for use in harsh environments where small size, weight reduction and resistance to harsh environments are valued.
Features
Compliant with IEEE-802.3:2005 Fast or Gigabit Ethernet
Optical fiber link distances up to 10 km
Operating temperature range from -40°C to +85°C
Shock, vibration and ESD resistant per MIL-STD-810
Composite enclosure and aluminum connectors are strong, durable and corrosion resistant
M28876 optical fiber connector interface
Operates from 110 / 220 VDC power supplies
Mounts in existing NAVSEA junction box hole patterns
Applications
Titan series Ethernet optical media converters with M28876 optical interfaces are designed for naval, petrochemical, mining, industrial or utility applications where significant levels of shock, vibration and extreme temperature ranges are experienced.
Fast or Gigabit Ethernet switches and peripherals
Telecom and datacom switch router / rack-to-rack links
Storage or computation clusters
Note: Other wavelength, mounting and port count options are available.