Dagger Optical Transceivers, Transmitters and Receivers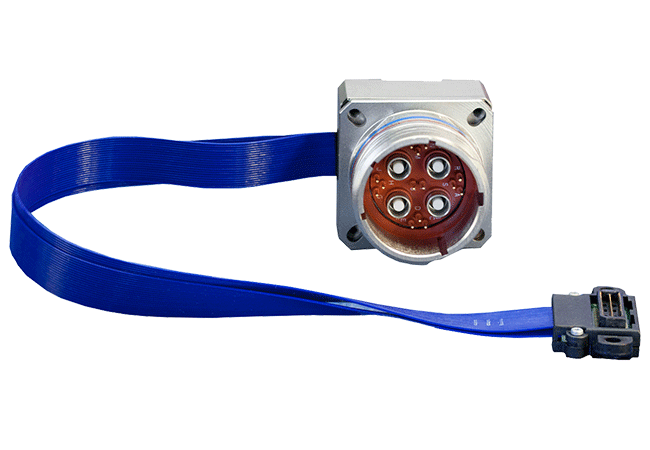 Moog Protokraft Dagger series D38999 transceivers, transmitters and receivers consist of optoelectronic transmitter and receiver functions integrated into a wall mount D38999 cylindrical connector. The optical transmitters are 850nm VCSEL lasers. The transmitter input lines are driven with differential CML signals applied to the transmitter (TX+ and TX-) lines. Dual loop, temperature compensated, VCSEL drivers convert the transmitter input signals to suitable VCSEL bias and modulation currents.
The optical receivers consist of PIN and preamplifier assemblies and limiting post-amplifiers. Outputs from the receivers consist of differential CML data signals on the receiver (RX+ and RX-) lines and single ended CMOS indicator functions on the Loss of Signal (LOS) lines. The receiver data lines are squelched upon LOS assertion, preventing errant data generation when an invalid incoming optical signal is presented to the transceiver.
The optical mating interface of the Dagger series product family is an ELIO® fiber optic cable plug per EN 4531. The electrical interface to the Dagger series product family is a ribbon coax to Samtec® EQCD high density cable assembly enabling SMT interconnection to a customer's backplane, motherboard or daughtercard.
Features
Compliant with ARINC 818, 803 and 804
Suitable for applications from 50 Mbps to 10.3 Gbps, e.g. Ethernet, Fiber Channel or sFPDP
Maximum optical channel bit error rate less than 1x10-12
Operating temperature range from -55°C to +85°C
Shock and vibration resistant per RTCA / D0-160
ELIO® 2.5 mm ceramic optical fiber ferrule connector interface per EN 4531, ABS 1379 and ARINC 801
Configuration up to 8 electro optical conversions available
Option with Luxcis® 1.6 mm interface available
Applications
Dagger Series D38999 optical transceivers, transmitters and receivers enable high speed network communications over long distances in harsh environments.
Fiber channel switches and peripherals
ARINC 818 video interfaces
sFPDP data links
Ethernet switches or peripherals
FPGA integration
Note: Other wavelength, mounting and port count options are available.
ELIO® is a registered trademark of Esterline Souriau
Samtec® is a registered trademark
Luxcis® is a trademark of Radiall